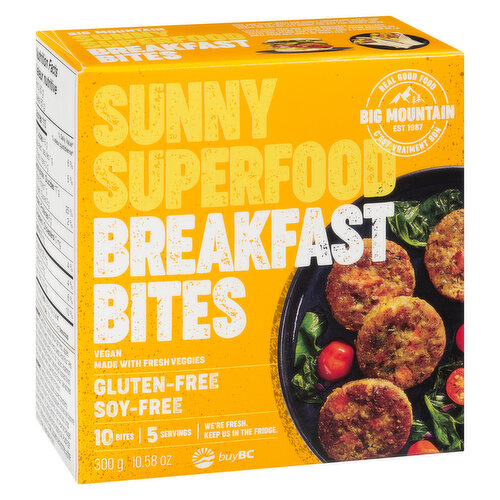 Big Mountain Foods - Superfood Breakfast Bites, 8 Each
Description
Made with Canadian maple syrup, hemp seeds and yams. Free of common allergens. High in fiber. Vegan, gluten free, soy free and dairy free. 8pack= 280g
Ingredients
Sweet potato, Canadian yellow split peas, apples, spinach, organic chia seeds, organic hemp seeds, rice flour, pea fibre, coconut oil, Canadian maple syrup, salt, spices, rosemary, thyme, dehydrated red bell peppers, dehydrated toasted onion, garlic powder, apple powder, maple natural flavour, dehydrated chives, less than 1% yeast extract (no MSG), natural flavour (liquid smoke for flavour).
Product Number: 00777744000077
Description
Made with Canadian maple syrup, hemp seeds and yams. Free of common allergens. High in fiber. Vegan, gluten free, soy free and dairy free. 8pack= 280g
Product Number: 00777744000077
Disclaimer
The product information on this website may not be 100% accurate. Please check the product packaging information before consumption, especially if you have allergies or other health conditions. Store made products may contain other allergens due to potential cross contamination during handling.