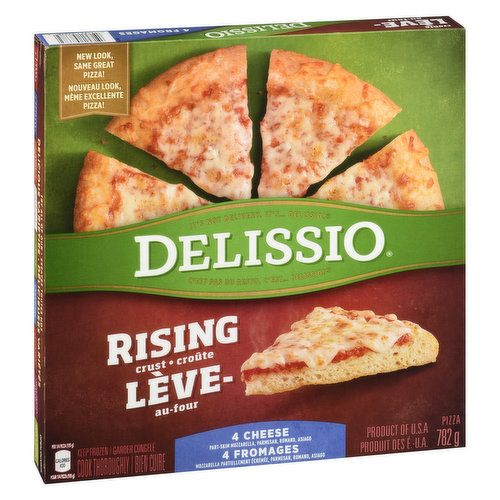 Delissio - Rising Crust Pizza - 4 Cheese, 782 Gram
Description
Mozzarella, Parmesan, Romano, Asiago Pizza
Ingredients
Crust (wheat flour, water, sugar, corn meal, wheat gluten, soya oil, yeast, salt, modified palm oil, DATEM, baking soda, mineral oil, sunflower lecithin, ascorbic acid, glucoamylase, glucose oxidase, xylanase), Part-skim mozzarella, parmesan, asiago, and romano cheeses (milk ingredients, bacterial culture, salt, microbial enzyme, lipase, cellulose), Sauce (water, tomato paste, soya oil, salt, garlic, spices and herbes).
Product Number: 00071921573782
Description
Mozzarella, Parmesan, Romano, Asiago Pizza
Product Number: 00071921573782
Disclaimer
The product information on this website may not be 100% accurate. Please check the product packaging information before consumption, especially if you have allergies or other health conditions. Store made products may contain other allergens due to potential cross contamination during handling.