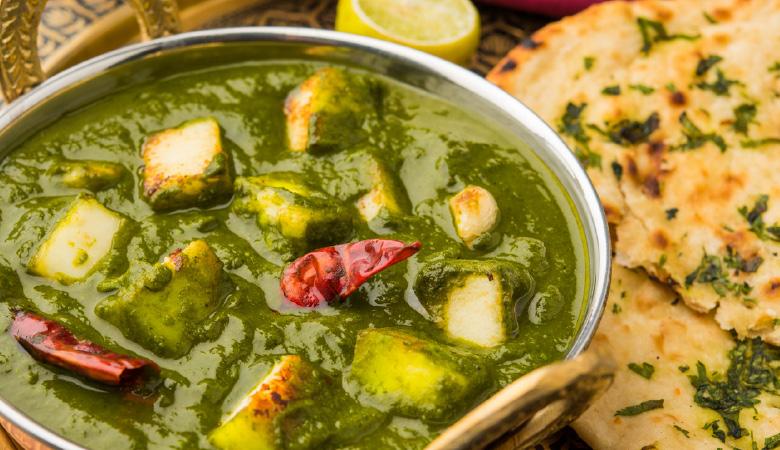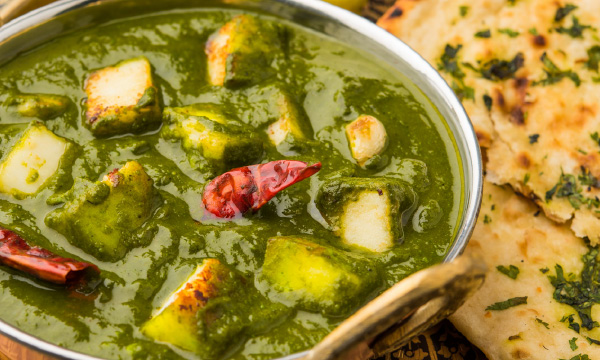 Palak Paneer

Recipe - Save-on-Foods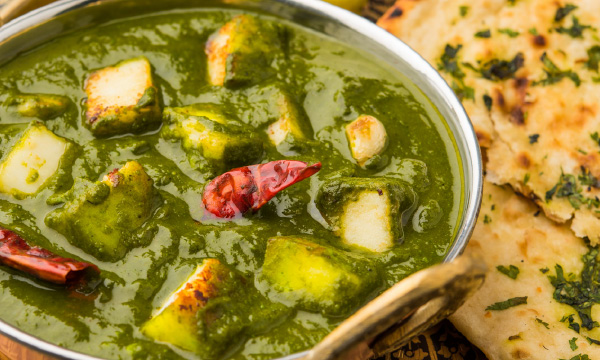 Palak Paneer
Ingredients
1 tsp (5 mL) Sundar Ground Turmeric
1/2 tsp (2 mL) Spanish Paprika (or Cayenne)
salt
3 tbsp plus 1 1/2 tbsp vegetable oil
340 grams paneer, cut into cubes
2 cups (500 mL) fresh spinach
1 medium tomato, chopped
1 medium white onion, finely chopped
1 1-inch piece of ginger, peeled and minced
4 cloves of garlic, minced
1 green chili, finely chopped
1/2 tsp (2 mL) Garam Masala
2 tsp (10 mL) Ground Coriander Seed
1 tsp (5 mL) Ground Cumin
1/2 cup (125 mL) plain yogurt, stirred until smooth
Naan bread
Directions
In a large bowl, whisk together the turmeric, paprika (or cayenne), 1 teaspoon salt and 3 tablespoons oil. Drop in the cubes of paneer and gently toss. Allow the cubes to marinate while preparing remaining ingredients.
Bring a medium pot of salted water to boil. Blanch spinach until leaves turn bright green (roughly 2 minutes). Remove immediately and transfer to an ice bath. Drain well.
Purée spinach in a food processor
Heat a large nonstick skillet over medium heat.
Add paneer and brown each side. Transfer to a plate.
Add the remaining 1 1/2 tablespoons oil to the pan. Add the onion, ginger, garlic and chili. Sauté the mixture until it's lightly browned. Add in the chopped tomato.
Add the garam masala, coriander and cumin. Cook, stirring often for 3 to 5
Add the spinach and stir well, incorporating the spiced onion mixture into the spinach. Add a little salt and 1/2 cup of water, stir, and cook about 5 minutes with the lid off.
Turn the heat off. Add the yogurt, a little at a time to keep it from curdling. Once the yogurt is well mixed into the spinach, add the paneer. Turn the heat back on, cover and cook until everything is warmed through, about 5 minutes
Serve with naan bread.
Shop Ingredients
Makes 2 servings
1 tsp (5 mL) Sundar Ground Turmeric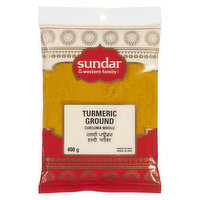 Sundar - Haldi - Turmeric Ground, 400 Gram
$4.49
$1.12/100g
1/2 tsp (2 mL) Spanish Paprika (or Cayenne)
Not Available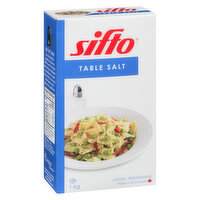 Sifto - Table Salt, 1 Kilogram
$2.29
$0.23/100g
3 tbsp plus 1 1/2 tbsp vegetable oil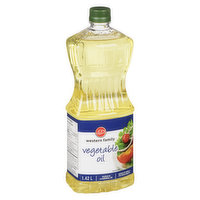 Western Family - Vegetable Oil, 1.42 Litre
$7.09
was $8.99
$0.50/100ml
340 grams paneer, cut into cubes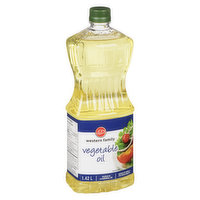 Western Family - Vegetable Oil, 1.42 Litre
$7.09
was $8.99
$0.50/100ml
2 cups (500 mL) fresh spinach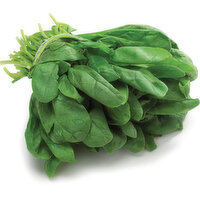 Spinach - Bunch, Fresh, 1 Each
$2.99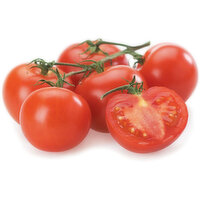 Tomatoes - On the Vine, Each, 150 Gram
$0.89 avg/ea
was $0.99 avg/ea
$0.59/100g
1 medium white onion, finely chopped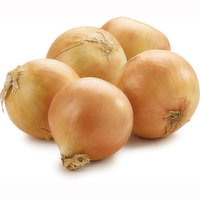 Onions - Yellow, Medium, 215 Gram
$0.94 avg/ea
$0.44/100g
1 1-inch piece of ginger, peeled and minced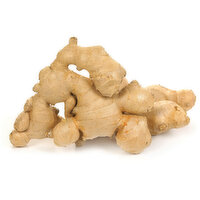 Ginger - Root, Fresh, 1 Pound
$3.49/lb
$0.77/100g
4 cloves of garlic, minced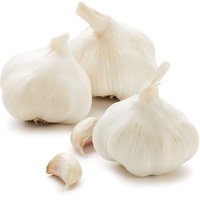 Garlic - White, Bulk, 1 Each
$0.75
1 green chili, finely chopped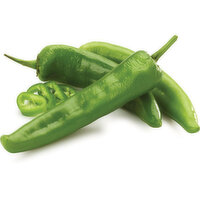 Peppers - Anaheim Peppers, 25 Gram
$0.25 avg/ea
$0.99/100g
1/2 tsp (2 mL) Garam Masala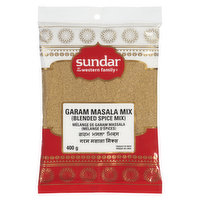 Sundar - Garam Masala Mix, 400 Gram
$4.89
$1.22/100g
2 tsp (10 mL) Ground Coriander Seed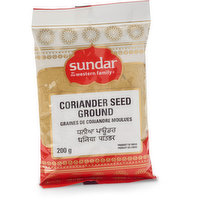 Sundar - Coriander Seed Ground, 200 Gram
$2.19
$1.10/100g
1 tsp (5 mL) Ground Cumin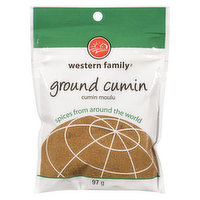 Western Family - Cumin - Ground, 97 Gram
$4.24
was $4.99
$4.37/100g
1/2 cup (125 mL) plain yogurt, stirred until smooth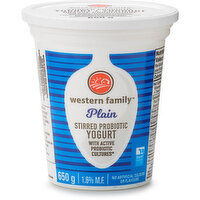 Western Family - Plain Stirred Probiotic Yogurt 1.6% M.F., 650 Gram
$2.89
was $3.99
$0.44/100g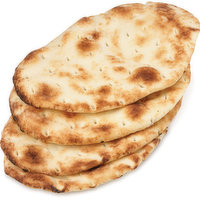 Bake Shop - Naan Plain, 472 Gram
$5.29
$1.12/100g
Directions
In a large bowl, whisk together the turmeric, paprika (or cayenne), 1 teaspoon salt and 3 tablespoons oil. Drop in the cubes of paneer and gently toss. Allow the cubes to marinate while preparing remaining ingredients.
Bring a medium pot of salted water to boil. Blanch spinach until leaves turn bright green (roughly 2 minutes). Remove immediately and transfer to an ice bath. Drain well.
Purée spinach in a food processor
Heat a large nonstick skillet over medium heat.
Add paneer and brown each side. Transfer to a plate.
Add the remaining 1 1/2 tablespoons oil to the pan. Add the onion, ginger, garlic and chili. Sauté the mixture until it's lightly browned. Add in the chopped tomato.
Add the garam masala, coriander and cumin. Cook, stirring often for 3 to 5
Add the spinach and stir well, incorporating the spiced onion mixture into the spinach. Add a little salt and 1/2 cup of water, stir, and cook about 5 minutes with the lid off.
Turn the heat off. Add the yogurt, a little at a time to keep it from curdling. Once the yogurt is well mixed into the spinach, add the paneer. Turn the heat back on, cover and cook until everything is warmed through, about 5 minutes
Serve with naan bread.